Luminarie, as the name suggests (Lumen in Latin means light), indicates the traditional wooden frames, decorated with many small, coloured lamps that, composed together in urban scenographies, light Southern Italian towns during periods of city-wide celebrations.
The origins of luminarie can be dated back to the Baroque period and derived from the great ephemeral urban structures of papier-mâché realised during the Renaissance Festivals in Italy, called "apparati".
Originally they were mounted on the facade of buildings and churches and the sources of light were oil lamps screened by coloured paper. The diffusion of luminarie in the Italian peninsula was in the second half of 1800s, when these scenographies were freed from the facades, became self-supporting and gas powered.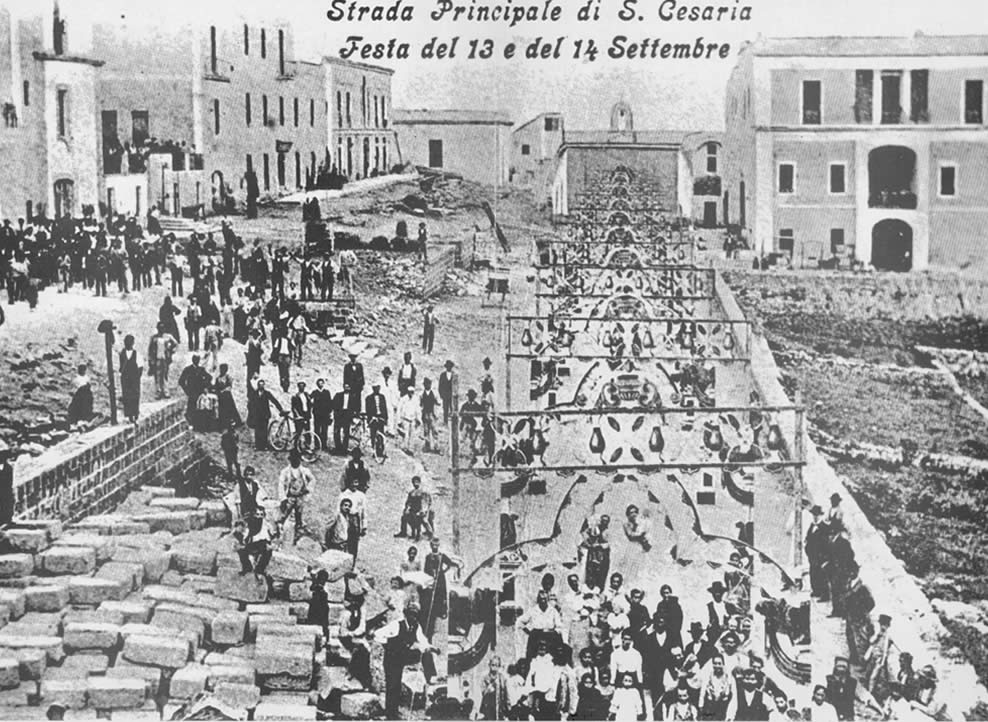 S.Cesarea Terme Fine Ottocento
Mariano Scenografie Luminose is established exactly in 1898, when Salvatore begun his work as paratore (decorator), followed by his son Eliseo and now by Lucio Mariano.
Technical skill, imagination and tradition for a unique and always different product, but above all the passion unchanged for three generations that has brought to the third millennium the secrets of an ancient art. From the carbide lamp to the electric current, from the incandescent bulbs, to the LED light and the millions of colours of the RGB.
Innovation and tradition in a company that has transformed Luminarie into real architectures and sculptures of light that are admired all over the world.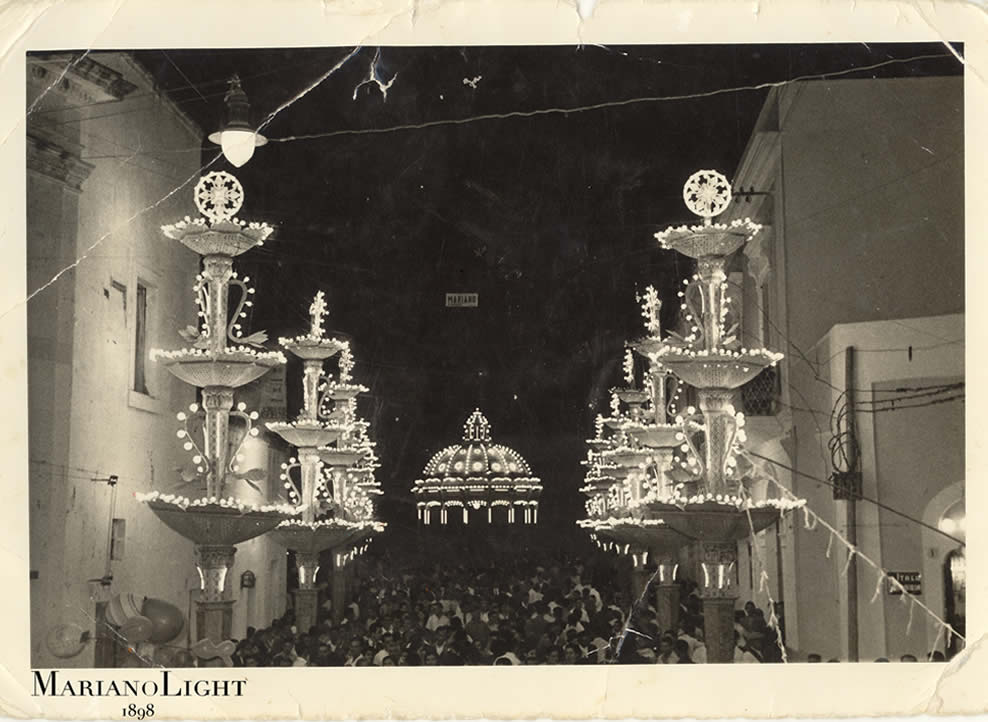 1950- Festa di S.Lorenzo - Sogliano Cavour
MarianoLight's headquarters in its 8,000 square metres, includes the research and design studio; three workshops for the manufacturing of wood, metal, plexiglass, polycarbonate and plastics; two warehouses for the storage of the finished products and a showroom. Among the novelties of our production the LED lights in 2010 and RGB lights in 2015.
From the administrative offices the guidelines of the five divisions of MarianoLight specialized in the design, research, production, sale and installation of the most advanced lighting. Five divisions for five workgroups of qualified professionals who interact synergistically, operating in the five continents, but just one signature, always that of the Marianos.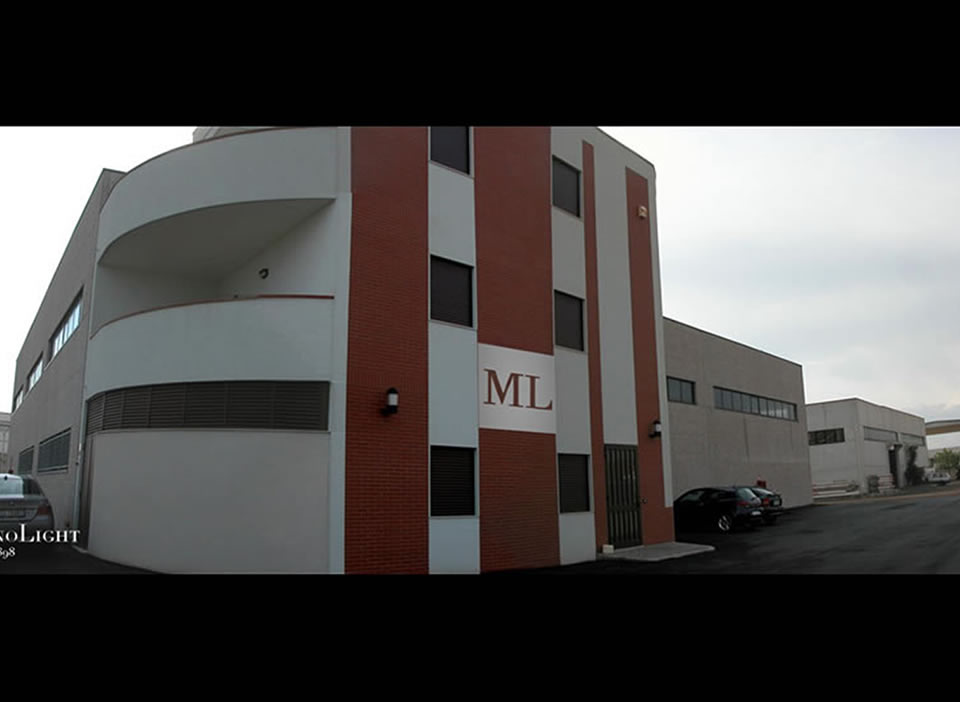 The Chamber of Commerce of Lecce, on the occasion of the celebration of the 150th anniversary of its establishment, has rewarded the hundred-year-old companies by registering them in the National Register of Historical Companies, including MarianoLight. Historical companies are a national pride and boast because with their uninterrupted activity they have contributed to write the economic history of Italy. The precious heritage of experience and entrepreneurial values of Salvatore Mariano, who began his activity as a 'paratore' in 1898, passed to his son Eliseo who has in turn enriched and transmitted it to Lucio Mariano, who, combining tradition and innovation, brings and exports the brand 'Made in Puglia' throughout Italy and the world.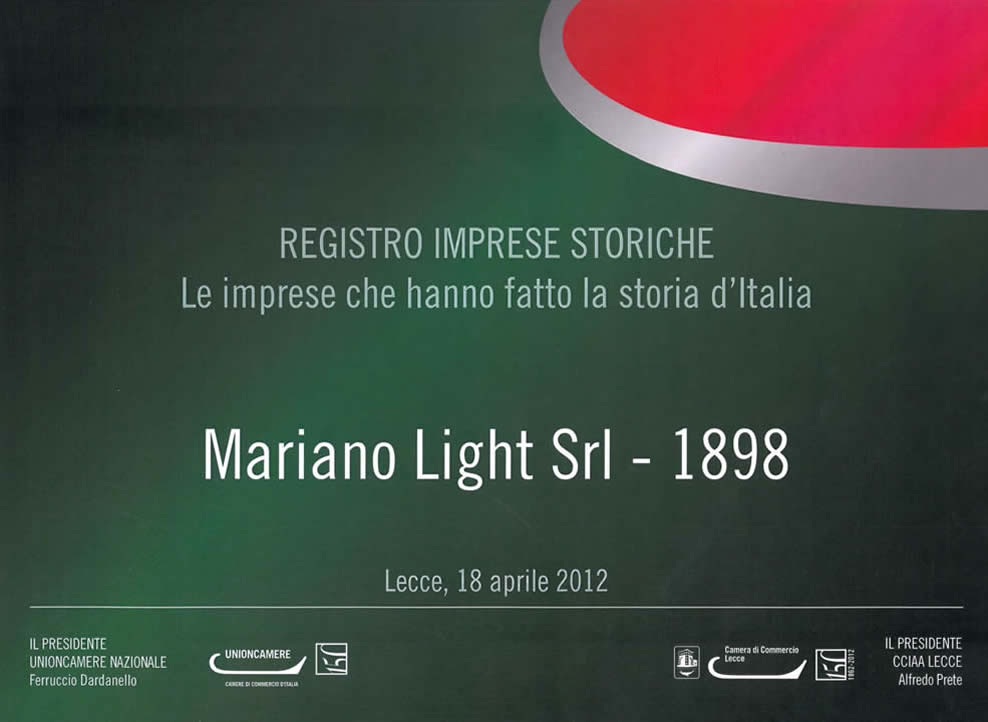 Diploma Impresa Storica
A sophisticated understanding of the past is one of the most powerful tools we have for shaping the future. Click on the images below to enlarge and witness our centennial history.